Travel Insurance – get it early!
As soon as you book your travel and pay your deposit, we strongly recommend you take out travel insurance.  This will protect you and your family from unforeseen circumstances.  Travel with peace of mind knowing that any loss of luggage, forced alterations to your travel plans, unexpected medical emergencies and more are covered.  
BUT … which travel insurance is right for you?  Various policies have exclusions and some policies might exclude aspects that are an integral part of your holiday, such as snow and ice sports, or skiing off piste
Estours Travel recommends travel insurance from amongst these selected travel insurance providers (below), and will be more than happy to discuss your travel plans and help you select the best cover..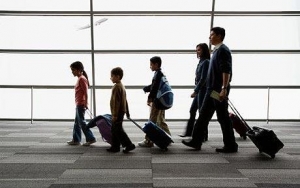 In general, you can choose one of the following cover types.   However, please carefully read the specific policy wordings to ensure that the cover is right for you:
Single Cover – Covering you and your dependant children/grandchildren under 25 travelling with you listed as covered on your Certificate of Insurance.
Duo Cover – Covering you and your travelling companion listed as covered on your Certificate of Insurance and intending to travel with you on your journey. Duo Cover does not provide cover for dependant children. 
Family Plan – Covering you and the members of your family who go with you on your journey listed as covered on your Certificate of Insurance.
The only members of your family who can be included are your spouse, your legally recognised de facto, your children and your grandchildren. However, all children and grandchildren must be dependant and under 25.
Credit Card Travel Insurance
Some credit cards provide complimentary travel insurance. This is available on many high-end or platinum rewards credit cards.  This complimentary insurance can provide a basic level of cover for you and your family while travelling overseas.  
These policies provide cover for various incidents, covering everything from lost baggage to medical emergencies.  It is definitely worth checking out if to see if your card offers any insurance cover.   Before you decide whether this type of insurance provides adequate cover for you, you'll need to compare the insurance offered on credit cards to standalone travel insurance policies.  Watch out for exclusions such as pre existing medical exclusions or limitations if you are a senior. This comparison will enable you to confirm that the level of cover is comparable to the levels provided by stand alone insurance providers and is at a sufficient level.