Welcome to Travel Partners, Australia's dynamic and independent travel agency.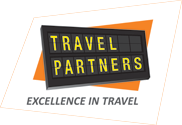 Our agents and affiliates are committed to providing the expertise, experience and advice you want from a travel agency along with the highest levels personalised customer service that seem to have long disappeared from the industry.
Estours Travel is a Travel Partner, so book with us and experience travel service that will ensure your holiday or trip is everything you want it to be.
We take care of all your travel needs and save you time

Your Travel Partner is first and foremost a 'people person'. We don't just book things and send you on your way, we take the time and effort to understand your personality, your situation and your travel requirements.
By taking the time to gain a real understanding of exactly what you're looking for, we can then plan your travel to be all you want it to be and to make sure everything goes smoothly and without any unexpected pitfalls.
Best of all, we do this all personally, at your home, office or choice of venue so you don't have to come to a traditional travel office and wait in a queue or for someone to serve you
We have the knowledge and expertise to give you peace of mind
Every Travel Partner is passionate about travel. They have gained their extensive travel knowledge and expertise through years of first-hand experience (not from travel brochures), and if they don't know they will consult our national network of fellow Travel Partners.
Our knowledge means you can relax knowing fully that we have looked after all the little things (many you may not even consider when you are away from home) so you can appreciate the important things ie; your holiday.
We provide the best travel experience that is beyond expectations
Every Travel Partner has a simple aim; for their customer to have a travel experience that is above and beyond their expectations.
At Travel Partners we believe the best travel experiences not only include the trip itself, but also the research, booking process and preparation.
To achieve this outcome, each Travel Partner is totally committed to going the extra mile, to being flexible in their approach and diligent in their pursuit of leaving no stone unturned in order to provide their customer with an outstanding travel experience.
This is how we measure ourselves and how we want our customers to measure us. By going above and beyond to provide truly outstanding travel experiences our customers will become our best advocates.
With Travel Partners you can be assured you are dealing with a company that has the best support, systems and industry backing.