Monday 19/1/15 – a day to do some exploring in Dolomites skiing.
Having heard about the unique ski tours available in the Dolomites skiing terrain, some of the group wanted to do to the Lagazuoi trip as the weather is forecast to be fine today, while Mel wants to try the Sella Ronda circuit.  So I will show them how to get to Alta Badia and let them go for their respective Dolomite skiing tours while any leftovers can ski around Corvara, La Villa and San Casiano.
All worked out kinda ok.  First up, a couple of leg warmers runs down under the Ciampinoi gondola with Paul, Dee Dee, Alan, Adam and myself.  Feeling satisfied, we met the rest of there group a little after 9 near the footbridge and off we went.  We caught the new Dantercepes gondola and over the ridge into the Val Badia region and skied to the last diversion before Armentarola.  Just to get here involves a huge amount of skiing and about 8 lifts, but fairly easy cruising.  Here, the group split into 10 for the Lagazuoi and 4 for continued cruising.  Other Mel was doing her own thing with Lachlan in the area she was yesterday and liked.  However, Lachlan only stayed for one run then left Mel to ski by herself.
The Lagazuoi is a must do for anyone visiting this region.  A taxi to the Lagazuoi cable car and a steep gondola ride to the top.  Here you will be astonished by the absolutely spectacular Dolomite scenery. Then a run through the valley to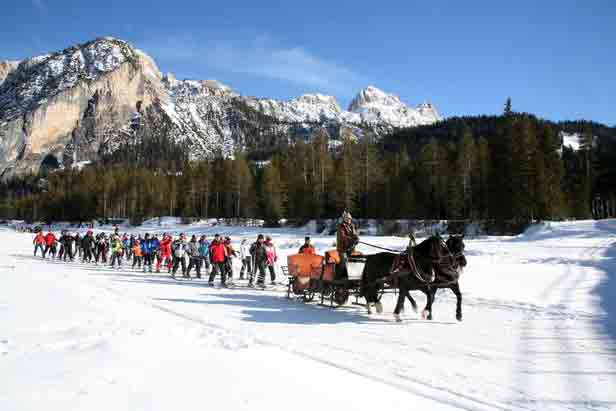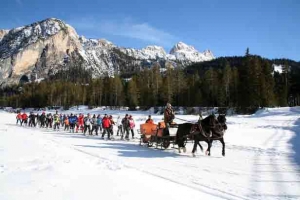 near where you started.  To get out, either pole for th next 1 k or be dragged behind a horse and sleigh controlled by local farmers who have been doing this for years (cost 2 Euro).  The horse sleigh group lost Adam as he lost his ski pass at the lunch stop and he had to return to the restaurant (10 euro taxi ride) to retrieve it.  He found it wedged behind his lunchtime eating spot. Alan, Paula and myself skied other runs in Corvara that I haven't skied in all the times being here.
It is a long trip back to the hotel with 5 lifts (from Corvara) to get back to the top of Dantercepes gondola, and the fast leg burner back to Val Gardena.  Once again, end of day – swim, spa, sauna, dinner, and tonight, the ski show.  Some went to show, but now being in the best located hotel in town, we could watch the show from the comfort of our balcony.
What a day, fine weather, snow in excellent condition, uncrowded slopes – Dolomites skiing is about exploring, enjoying the awesome scenery and a huge distance is covered every day – you hardly ever ski the same run twice.
Thong nominees were Adam of course for losing his ski pass, and he was hot favourite, Tosco for getting off a lift at half station as well as getting lost on the Lagazuoi run (don't know how he could have done that as there is only one way out !),  but awarded to David for shouting a round of drinks and having no money to pay for it, so borrows money from Dennis and uses his money to tip the waitress!