Wednesday, 21/1/15 – the weather is supposed to come in today – plan is to ski Val di Faasa on our way towards Arrabba, half way around the Sella Ronda and then return
8:30 starters at the bottom of the Ciampinoi lift waiting for it to open, and then, the now usual two quick runs under the gondola, and meeting the rest at 9:10.  Dee Dee, despite a big night out last night managed to turn up, still smelling like a brewery. Amanda had succumbed to a cold, while Melinda and David were doing a later start.
By now, the group were familiar with the area around Val Gardena and venturing further afield we worked its way over to ski Val de Fassa.  This valley is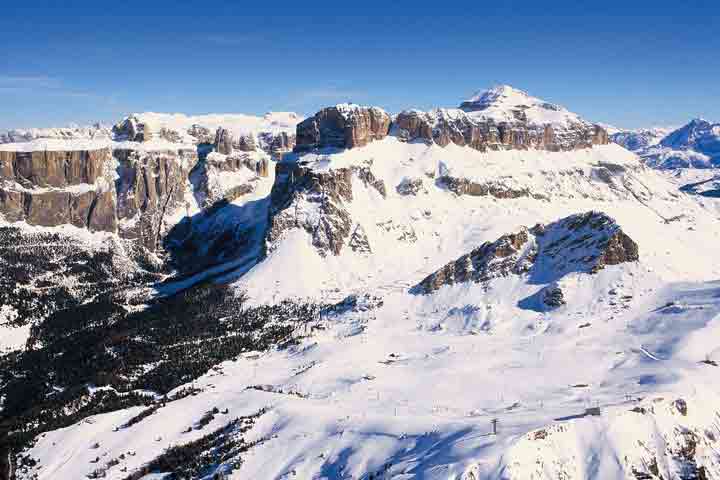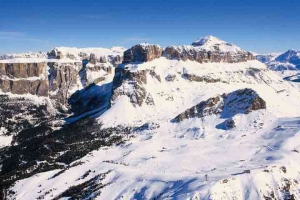 home to the well known Dolomite villages of Canazei and Campitello.  The visibility was ok even though the weather was overcast with some very light snow flurries. Long runs, good conditions, and terrain that we have not skied on this week until now.  We spent the morning skiing in the area above the town of Canazei…. an excellent area for having an easy day skiing.  
Lunch at the mountain restaurant and afterwards, Rod returned with Paula and Dee Dee, working the lifts in reverse order … this gives you a totally different ski experience.  Even though you are in the same area, you are skiing the other side of the slope and it is like skiing a new run again.  
The rest of the group ventured went further afield towards Arrabba.  The weather did come in, so as not to be a long way away from our home base should it turn nasty, we all returned.  Some became detached from the main group on the return, however, as we were now following the clockwise Sella Ronda route which is well sign posted, all eventually made it back safely. In summary, just another day skiing in the Dolomites and is something that should not be taken for granted as every day here is a blessing.
Thong nominees today were for Dennis for sitting in the ski room ready to go out just waiting for sunshine, Dee Dee for a big night out, returning at 2:30 am and not remembering how she got back, David G for having his phone on and being woken at 1:00 am with a phone call from Australia and it was the wrong number, Paula for not clicking into her skis properly and they ejected, Paul skiing on piste into a snow flurry on the edge and coming undone…but awarded to Alan J as he should have know better – when advised the ski route extended across the road, he chose not to use the purpose built tunnel for this ( which he used correctly last year), but led others astray by taking the ramp up to the road and let them walk across while he backtracked and took the correct route.