Thursday,   22/1/15 –  forecast is for snow.
An overcast start in Val Gardena this morning – did the early two leg burners, then when rest of group joined we decided to do all the long steep runs today around Val Gardena without travelling too far away from home base.  So, the group went up Ciampinoi and skied the long cruising red run back to the village – don't know why more people ski this as it is a fantastic piste through the trees – last bit is a bit iffy as it is steep.  Walked across the footbridge to the Dantercepes lift and skied top to bottom a couple of times on this – one red side and the other black side.  Then followed the World Cup course to San Chrsitina  – so we skied all the long runs based at Selva (Val Gardena), and it was good. 
Lunch at mid station on World Cup course (top of the Saslong Gondola)  We should have sussed something isn't quite right here when we walked in.  Old country and western music blaring out in the middle of the Italian Dolomites !! Lunch was not available until after 12, so while we waited a few went out for another run or two, while those staying inside endured the loud sad music.  Lunch choice was limited and when Paul & Paula started boot scooting to the music, it was time to leave.  Cross this place off the list for future lunch stops. 
Afternoon skiing at Plan de Gralba, up and down Piz Sella with Paul and Dee Dee exploring the terrain park for a bit of fun skiing.  This is probably the most popular skiing area in the Val Gardena precinct.  Met Victor (one of our hotel waiters) in the Piz Sella gondola as he was going for some powder skiing at Monte Pana.  We saw him take off and decided wisely not to follow – he is in another league.
Stopped at last stop for a beer ( or two) or that's what we call it – a perfectly located pension on the home run called Valentini, but was called "The Last Stop" a few years ago and aptly named.  Many a long hour was spent here by previous Estours skiers as an apres ski venue.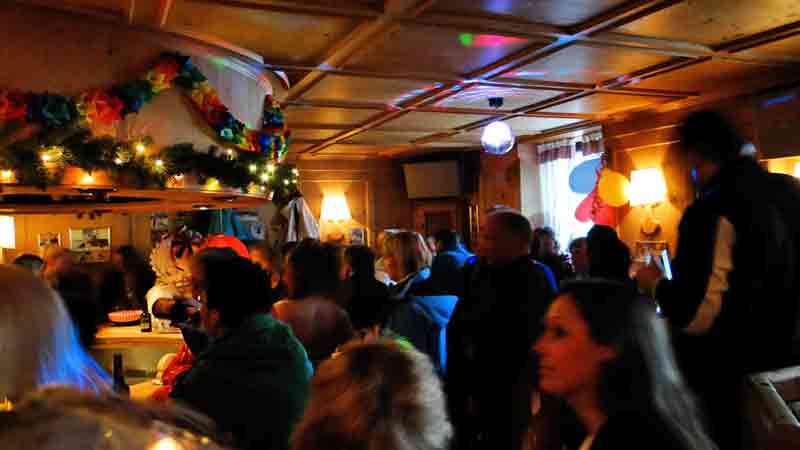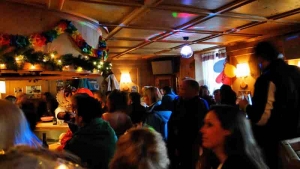 Back to hotel Aaritz for a quick shower and off to the Luiskeller bar with almost entire group for last holiday drinks.  This place gets packed, music is loud, everybody is having a good time and a great way to finish the day
Back at our hotel, Alan gave his thong speech -as good as ever, and this time I recorded it so it will be on the ski tour video.  It was awarded to Adam again as he needed help and encouragement.