Tuesday 20/1/15 – plan is to ski Val Gardena at Col Raiser,
The 8:30 starters were in trouble as the two runs got them to the bottom of Ciampinoi by 9:10 and the other were already waiting. Must be starting to slow up on these warm up runs.  Mel was having a day skiing with the rest of her family at Plan de Gralba and that appeared to work out ok.  In the pool last night, Mel said she was going to ski there for the next few days.
If you are going to ski Val Gardena, you must try the black World Cup run to San Christina – yes graded black for those who wish to do it top to bottom in a tuck, but first up in the morning and groomed perfect, it is fantastic.  We all tried it and and it is what excellent piste skiing is all about.  Dennis and Tosca took the red run down to go past the old castle for some local culture and ambience – however,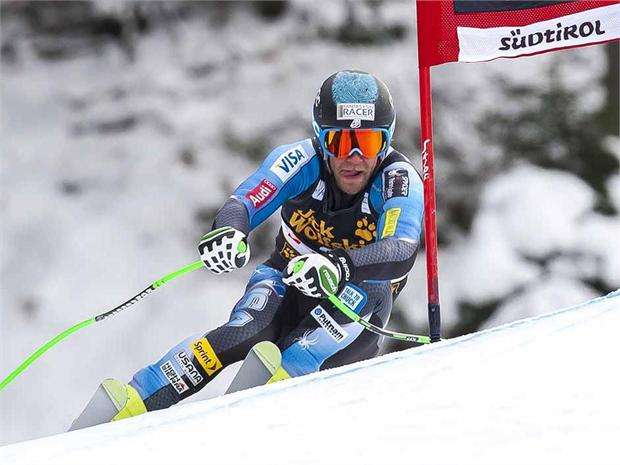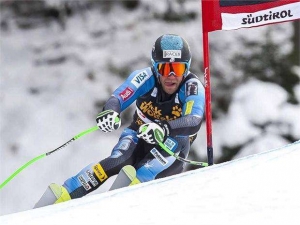 poor Tosca who got wiped out be another  skier (not a boarder !!) on this run. He's ok – didn't hurt himself.  This years world cup will be held on 18 to 19 Dec 2015 and for info on this click here.
At the bottom of the Sasslong course, a short walk to the cable rail station (which replaced the old bus transfer system of many years ago), then exiting at the stop, a gondola ride and were nearly there – one more lift a chairlift and were ready to ski again.  Getting to Col Raiser was busy, so after a quick run on the short old double chair, we took the 12 k run to from Seceda to St Ulrich.  This is a good run – most long kilometre runs end up being long windy cat tracks, but not this piste.  It is long with a big vertical and excellent skiing all the way to the bottom. I took some GoPro of the group for the ski tour video.  To get back up, two lifts again (these are huge mountains), and getting off the second gondola (where we were packed in like sardines !) straight into the restaurant for lunch.  Must have menu item, a Zingara pizza !!
Setting out after lunch for more skiing, Melinda found out her stocks were stolen. Bugger.  Something to watch our for – the gossip is that other people who are taking Gopro selfies "borrow" ski stocks for this purpose, then discard them when they are finished
I lent Melinda my stocks for the afternoon skiing and it was good skiing without them for a change. On our ski Val Gardena return, Paula went in for an ice pack on her knee, I went out for a few more runs as did Paul and Dee Dee.  End of the ski Val Gardena day, it is but a short 100 m walk back to our hotel ski room.
Once again, pool, spa and sauna, then off to the complimentary cocktail party with canopies  and champagne cocktails before dinner. It's a hard life !!
Thong nominees were:- Tosca, a former ski instructor who keeps dropping his skis all the time, Adam who feeling at home, takes his ski boots off at the lunch restaurant and lies down on the bench for a snooze, Melinda for losing her stocks at lunch time, then David (her partner) for not offering his stocks to her, Paul & Dee Dee for stopping to make their own private video and causing the others to wait for them and Ning, who left the group as she was cold, but could not find her way home and ended up joining them again.
However, thong awarded to Tosca.